Destination: London, England

Cost Per Person: Based on 2 sharing: £189.99pp - Single Room: 314.99
Dates: 24/08/2019 - 27/08/2019
Board Type: Bed & Breakfast
What's Included: Hotel with Breakfast

Holiday Description
Avoid the hassle of travelling to and from London's biggest street Festival with our latest Hotel deal and enjoy the celebration as the Notting Hill Carnival fills the streets of West London with Caribbean and Latin cultures, colours, music and flavours. Situated within walking distance of the Jouvert Morning and Carnival parade route, you can dance to the sound of Steel bands, Soca music and Sound Systems, watch elaborate floats and colourful costumed performers, and visit the tempting food stalls along the route.

Carnival Description
Each year in London, Notting Hill is host to Londons biggest street party with more than one million people attending over the carnival weekend. Londons Carnival experience is precipitated by lots of Parties and events that play the genres of Music that you are likely to hear at the Carnival and performances by many of the top Carnival Music Artists. For further details on the official Notting Hill Carnival Events please visit HERE

Accommodation : Queens Park Hotel

The Queens Park Hotel is a stunning Victorian building dating back to the 1900's situated on the tranquil street of Queensborough Terrace within walking distance of the Carnival parade route. This 3-star hotel in Bayswater offers clean, modern hotel rooms at an affordable price in an expensive area. Queens Park Hotel caters to solo tourists with single hotel rooms or family of four in our Quadruple rooms.
From the Queensway Hotel, you have many restaurants, cafes and pubs offering a variety of food for breakfast, lunch and dinner. Queensway station on the Central Line will take you to Marble Arch, Bond Street and Tottenham Court Road which is near the West End or from Bayswater Station, you can travel around London on the Circle and District Line from Bayswater Tube Station.
What's included
Optional Extra

Off-peak Day Travelcards - use from 09:30 (Monday to Friday), anytime on weekends or bank holidays for the date on the ticket and for journeys starting before 04:30 the next day. A Travelcard gives you unlimited travel at any time on the bus, Tube, Tram, DLR, London Overground, TfL Rail and National Rail services in London.
Oyster cards
An Oyster card is a smart card that you add money to, so you can pay as you go to travel on the bus, Tube, trams, DLR, London Overground, TfL Rail, Emirates Air Line and River Bus.
Price Per Person:
Option 1 £189.99 (Based upon two sharing)




Option 2 £314.99 (Single room occupancy)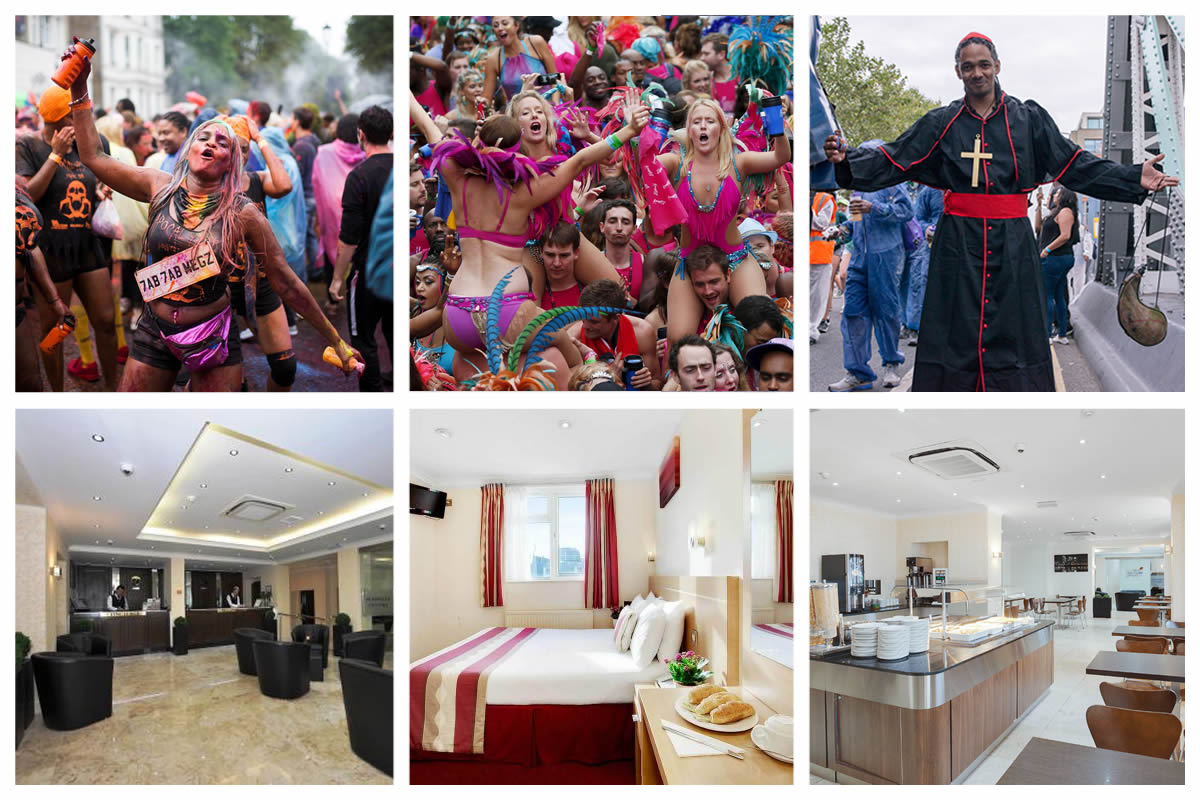 For information on the official Notting Hill Carnival events Click HERE

And if you are interested in joining a Carnival Band please contact us This email address is being protected from spambots. You need JavaScript enabled to view it.